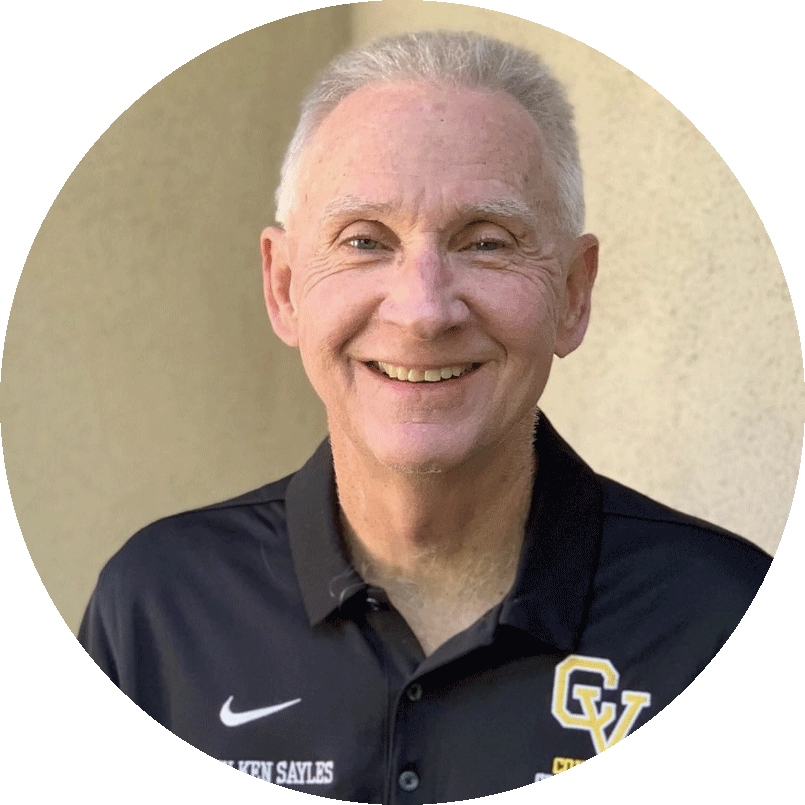 Ken Sayles has spent over 30 years coaching high school cross country and track athletes. The 2014 Southern California and Orange County Coach of the Year has coached over 50 individual league and county champions. His runners won numerous regional individual champions and took his cross-country teams to six straight California State Championships. His 2017 State Champion just won the PAC-12 conference cross country championship as an individual. Ken resides in Laguna Niguel, California.
Ken Sayles has been the Head Girls Cross Country Coach at Capistrano Valley High School (CVHS) in Mission Viejo, California for more than 3 decades. He was also the Girls Track Distance Coach for 27 years and served as the Head Girls Track and Field Coach for 24 years. Following the 2014 season, in which his team was ranked as high as #8 in the nation, he was named Coach of the Year for Southern California by the California Coaches Association. CVHS competes in the most competitive area in the country, Southern California and the most competitive subregion, Orange County where he was named Coach of the Year by the Orange County Register.
Between 2012 and 2017, Capistrano Valley made the California State Meet six years in a row, a feat achieved by very few schools in California State Meet history. CVHS won the Orange County title twice and finished in the top three, six years in a row. During his tenure, Coach Sayles coached one individual State Cross Country Champion and multiple Southern Section Individual Champions. In all, Coach Sayles coached over 50 individual South Coast League and Orange County Champions at Cross Country and Track and Field. In 2017 he had the unique distinction of having a female athlete qualify for Nike Cross Nationals (NXN) and a separate female athlete qualify for Foot Locker finals. In 2019 Coach Sayles helped a third female athlete compete at Foot Locker finals. As of this writing he has four girls on Division 1 scholarships at universities in the Pac-12 conference, toughest in the nation.
The first cross country and track coach to be honored with the prestigious Southern Section of California, "Coaching with Character Award", Coach Sayles was commended because of the "Victory with Honor" emphasis he demonstrated in his coaching career. He also served as head of the Southern California Cross Country Coaches Association and was a member of the CIF Southern Section Cross Country Advisory Committee.
Mr. Sayles taught in the Social Science department at Capistrano Valley High for 34 years. He taught Advanced Placement (AP) Government and International Baccalaureate (IB) History of the Americas. He was twice named "Teacher of the Year" and went on to win the Capistrano Unified School District "Teacher of the Year" in 1999. He retired from the classroom in 2014 and stepped down as full time Head Coach in 2018. He now mentors a former star runner who is the new Head Coach.
"Coach" lives in Laguna Niguel California with his wife Melisa, a retired Spanish teacher and former Assistant Coach and their Siberian Husky dog Luna. He serves as the volunteer Race Director for the BRAVE RACE 5k to benefit The Joyful Child Foundation; in memory of Samantha Runnion, which is a non-profit organization dedicated to the prevention of crimes against children.
"I have read many books on coaching High School Cross Country in my thirteen- year career coaching high school Girls Cross Country in south Orange County, some I have valued, while others not so much. Along the way, I always thought I was a detailed Head Coach, taking pride in always crossing my T's and dotting my I's. That was until I read Ken Sayles book on anything and everything coaching High School Cross Country, mainly focusing on girls. From training to nutrition to race prep, to all of the numerous nuances coaching this stellar sport. I found his compilation of ideas and knowledge to be both informative and thorough, well written, and simple to follow. This is a nuts-and-bolts guide to coaching Cross Country, focusing not so much on intricate science; rather, the good old day to day numerous details, training to dealing with hot days, that many do not think about. I am still involved in this sport, and will be for a while, and I very much want another trip to State Finals, and another Orange County Girls Cross Country team title. This book will assist that process. Simply good stuff."
"I have had the privilege of knowing Ken Sayles since I first started coaching at San Juan Hills High School in 2011.  Ken was one of the coaches I approached for advice since I was new to our League and Conference.  We met over coffee and he openly shared at that time that he was still figuring out how to successfully work with the girls.  OBVIOUSLY, he figured it out since shortly thereafter, his girls teams seemed to be winning everything.  Now, years later, I learn that that was about the time he started to diligently utilize the Jack Daniels' Running Formula with his teams. His book about that journey is an easy-to-read, step-by-step pathway to success and puts into practical terms the Jack Daniels Program–showing any coach just how to achieve the best results with distance runners.  I intend to use Ken's book with my own teams.  I like the shorter chapters that clearly spell out what to do at each step along the way.  Ken Sayles Book is the Jack Daniels' Running Formula in action!"
"Ken Sayles is a great coach. We have known each other for more than 30 years and during that time we always collaborated in the summer months to exchange training plans, ideas and to talk about our teams and the upcoming season. He was always willing to exchange his thoughts and materials with me. I was always concerned when we had to race against Capo Valley because I knew they would be ready and well prepared to meet any challenge my team would put up against his teams. His season-long training plans were detailed and well thought-out. His vision was clear and to the point and he was able to consistently peak his teams when it counted the most at the California State meet."
NEWSLETTER
Be the first to find out about new books, webinars and plans!