INTERVIEW WITH COACH SAYLES ABOUT HIS BOOK COACH RUN WIN
Jeffrey Parenti of Mile Split, a national high school cross country and track and field website, interviewed Coach Sayles about his new book, Coach, Run, Win. Jeffrey clearly loved the book and asked lots of questions.  The resulting interview is extensive. Each question or topic is indicated in a sidebar according to the minutes into the interview where it appears.
TOPICS COVERED IN THE INTERVIEW
Coach Sayles and Jeffrey covered a wide variety of topics.
Included in the interview are Coach Sayles' motivation for writing the book. He also discusses his use of Jack Daniels VDOT training system. Jeffrey and Coach discussed how to determine the paces of key workouts. Coach Sayles provides information about hydration, nutrition and cross-training. Coach discusses how to peak for championship time. Jeffrey prompts Coach Sayles to explain his mental approach to racing. There is a discussion of how to develop a championship mindset so that teams and individual runners can achieve ultimate success.
Jeffrey asks about some "tricks of the trade" like; shoe-tying and special methods to keep cool on hot days. Coach talks about his mentors. The interview also covers how Coach came to develop the system of training and racing that resulted in so much success. Coach Sayles discusses case studies of individual athletes he coached because they illustrate some of the most important themes covered in the book. Many other aspects of coaching and running are covered in this wide-ranging exploration interview. Coach, Run, Win can be purchased at https://www.coachrunwin.com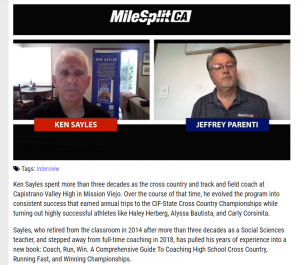 https://ca.milesplit.com/videos/502235/ken-sayles-chats-new-book-coach-run-win